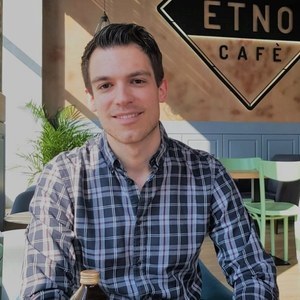 Remo Kyburz
Host of Leap Takers
Hey there! My name is Remo.


(Me on one of my travels )
I'm a venture investor with a passion for startups, personal growth, discovery of cool products, and exploring the world & its people!
I grew up in beautiful Lucerne / Switzerland, close to the Swiss alps, before moving to Zurich for my bachelor and master degrees in business & economics at the University of Zurich. During my studies I spent a year abroad in Vienna and Hong Kong, which lead to one of the most memorable and impactful times of my life so far.
I also spent an extensive time traveling through Southeast Asia, Australia, and the US, which opened my eyes to other aspects of life and made me a better person. I was also lucky enough that I had the opportunity to work at some amazing companies like BlackRock, PwC, and UBS during my academic years.
I'm currently working as a venture capital investment manager at Tamedia in Zurich. Previously, I founded BlockNovum, a startup scouting and investment research provider for the blockchain & cryptoasset space. Before that I advised business executives as a consultant for Accenture Strategy.
I believe in **lifelong learning and experiencing life to its fullest, while also making the world a better place! **By interviewing fascinating guests that took risks to put their own dent in the universe, I'm trying to foster and encourage entrepreneurship, as well as motivating people to follow their own path.
You can also find me on Instagram, Medium, and Twitter, where I post new episodes, share cool stuff / interesting articles I found, blog occasionally, and provide glimpses into my life!
---
Here are a few of my personal favorites for different categories:
Activity: Exploring a new city
Boardgame: Scythe
Book: A Song of Ice and Fire (GoT), The 4-Hour Workweek, Sapiens
Destination: Southeast Asia (Cambodia, Myanmar)
Food: Authentic szechuan cuisine (i.e. from Chengdu region in China)
Game: Dota 2
Music: Kygo ("I See Fire")
Place I'd like to visit: South America
Quote: There are so many, but here is one: "Somebody once told me the definition of hell: 'On your last day on earth, the person you became will meet the person you could have become.'" -  Anonymous
And much more... :)
Sport: Snowboarding, Tennis
Thinker: Naval (@Naval)
Disclaimer: I added some affiliate links on this website to help cover some of the costs of hosting this website & the podcast.
Remo Kyburz has hosted 26 Episodes.